Cette discipline aérienne est vraiment unique !
It consists of making pretty figures inside a tissu accroché au plafond et formant une boucle !
For that, you don't need to be a gymnast or circus artist!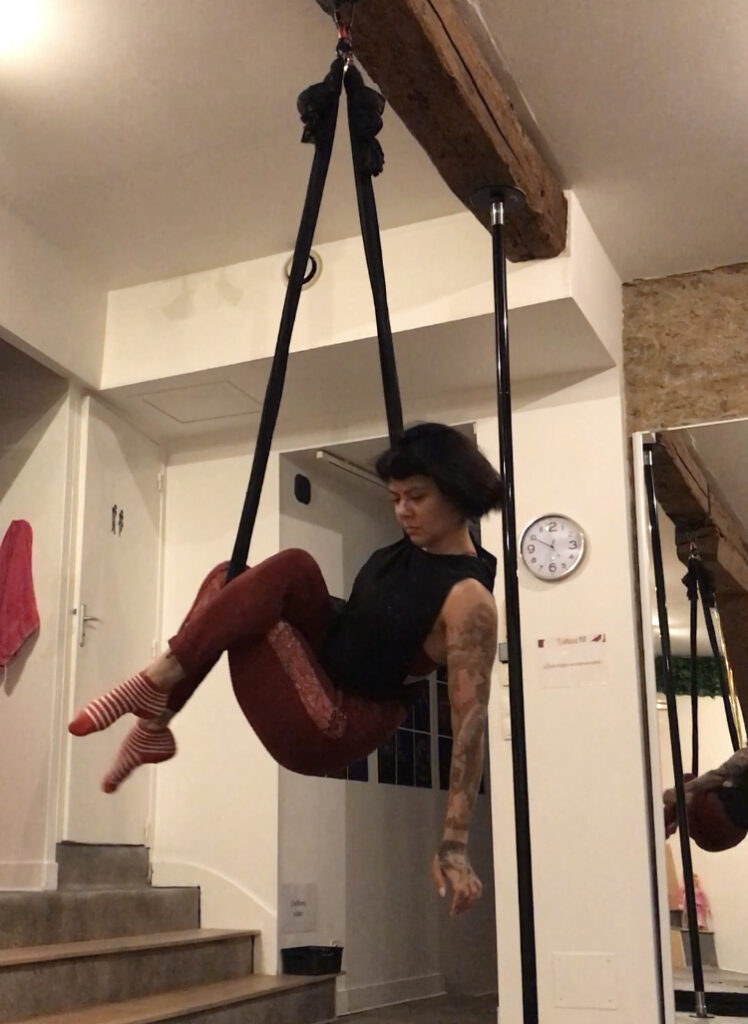 - hamac aérien est dérivé du tissu aérien, mais il est plus facile que ce dernier car on réalise beaucoup de figures « posé » dans le fond du hamac.
C'est un agrès « mou » contrairement au cerceau ou à la pole. Les sensations sont donc différentes 🙂
- hamac aérien permet de développer sa force, sa souplesse, son endurance, sa coordination et sa confiance en soi.
La discipline permet de travailler également la fluidité et le côté « dansé » car nous réalisons des enchaînements dans le hamac.
Ce cours est ouvert à tous les niveaux, y compris les personnes n'ayant jamais pratiqué (dans ce cas il faut choisir le cours niveau « initiation »).
Il dure 1h pour les initiations / et 1h30 à partir du niveau débutant et +.
After a complete warm-up, Vertical Fit will make you discover in complete safety and
sur des hamacs à faible hauteur comment vous hisser à l'intérieur et réaliser de
beautiful poses!
With these poses we will achieve a combo, that is to say that we will put
all the learned poses end to end to make a sequence!
The hamac aérien is all levels and does not require any athletic prerequisite.
Outfit:
Prévoyez de quoi couvrir l'intégralité de votre corps : legging, t-shirt à manches (impérativement) courtes ou longues (PAS de débardeur).
TOUS les bijoux ainsi que les fermetures éclairs (et tout ce qui peut s'accrocher dans le tissu) sont interdits car ils abiment de façon irrémédiables les tissu (un tissu filé = un tissu à la poubelle).